Thirsk Racecourse Visitor Guide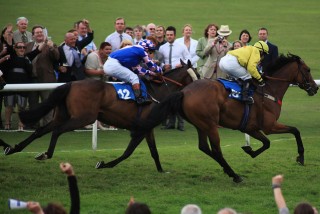 Thirsk Racecourse is North Yorkshire's premier sporting venue. With top class facilities, a convenient yet beautiful location, and top class racing, Thirsk is a venue that is enjoyed by both locals and visitors from around the world.
Every summer, racegoers enjoy over 15 separate race meetings, including some of the highest quality horses on the circuit.
Thirsk Online is a visitor's guide designed to raise awareness of the racecourse and the surrounding area. If you're already planning to visit Thirsk, we hope you will find this website useful. If you're still at the stage of considering Thirsk as a possible venue, we hope that we can showcase the many benefits of visiting the racecourse and the town.
If you have any questions or comments on how we can make this site better or more informative, we'd love to hear from you.
The Track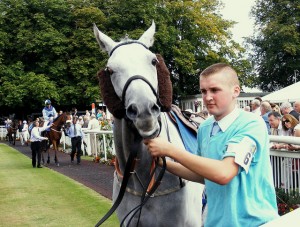 The racecourse is a 1.25 mile flat track with left handed bends (meaning the runners race anti-clockwise).
The six furlong home straight provides some thrilling finishes up to the post which is located directly in front of the main pavilion.
For racegoers, it truly is an experience not to be missed.
Betting, Corporate Facilities & Catering
Whatever your needs and budget, Thirsk Racecourse has plenty to offer.
Private Boxes
There are a selection of hospitality boxes on the top floor of the Hambleton stand, all of which boast an exceptional view of the finishing line. Every box has its own TV, dedicated catering staff and private betting facility.
We'd recommend one of the all inclusive packages, where you get all your food and drink for the day included in one price per head. Having tried them all, this definitely represents the best value. Even the Knights & Dames package, which is the cheapest option, is still an incredible day out.
Bookmakers
Racegoers can place bets in person with a variety of independent trackside "turf accountants". There are also stands placed in the main pavilion where you can bet with Tote. To be perfectly honest though, neither of these options is going to give you the best odds. The on course odds at Thirsk are always much lower than you can get online.
If you're comfortable using an online racing bookmaker, the stadium has a public wifi service available which allows all racegoers to connect to the internet via their mobile devices and bet online. You'll almost always get a better deal that way.
As well as better odds, you get access to some of the best betting offers available, and also forces trackside bookies to become more competitive and offer better prices. That said, the track bookmakers are finding it hard to compete due to their relative small size and larger overheads.
Right now many trackside bookmakers are going out of business, and we certainly don't want to see that happen as they are still an important part of the race day experience. So hopefully the competition from online firms will just get them to offer more value to the punters. Do make sure you shop around online before you hand over your money.
Bars
Whether it's a glass of champagne to toast your winnings, or a few pints to drown your sorrows, there are plenty of bars to meet your needs.
Try the Fodder & Ale package for complimentary beer and food with your ticket. You get free parking, a drink and food from the cafe, which offers a decent saving overall on buying all these items separately.
Disclaimer
This website is independently owned and is not affiliated to Thirsk Racecourse. The opinions expressed on this site are our own and do not represent those of the course owners. We make every effort to keep this information relevant and up to date. To book tickets or hospitality, you can go to the official Thirsk Racecourse website here.